A few years ago, I set a goal to get published.
Yes, I was published once in a weekly magazine, called the Pentecostal Evangel. A copy of that article can be found
here.
So, today, because I not only have several articles published on Squidoo, but also because the article that launched me into the "spotlight" is about knitting and felting purses, I have offered my $4.99 pattern for these purses on Etsy for $.99, when you mention Squidoo in the comments at checkout.
That's an 80% savings!
This pattern is for sale on Etsy for $4.99. Step-by-step knit and felt handbag.
Get 80% off the Etsy price by mentioning Squidoo in your order.
I you would like to receive this .pdf pattern for $.99 to print and keep, order below. When you checkout, there is a comment section. Tell me you
found it on Squidoo
and I'll refund $4.00 when I email the pattern for your use.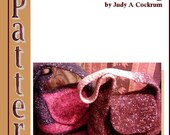 PATTERN for the Glistening Starry Sling Knit Felt Bag
| Price: $5
This is a pattern. I will email the .pdf file to you once I receive your payment. I'll send a test email to make sure your email does not reject...
ORDER HERE
Remember the code for your $4.00 refund is SQUIDOO. Just say you found me on Squidoo in the comment when you checkout.
I'll email your pattern once I see the payment. I'll refund you which happens as soon as I see the order, then the .pdf is yours.
If you cannot knit, there are amazing online videos at knithelp.com and on YouTube that teach you to knit.